2018
Miami Is Not Plastic
Debris Free Oceans hosted a fantastic event at the Rusty Pelican to launch the Miami is Not Plastic campaign. Featuring the mayor of Coral Gables who helped ban plastic bags in the city.
MegaCon Dragon Ball Z Reality Show
Rosanna and Charisma Tran took part in a B-Corp Reality show in a project runway style competition to make a recycled outfit for children with pediatric cancer
Model4Miracles and Miss Miracle
Orlando, Florida - Rosanna and Elizabeth Tran coordinated the 10th annual Model4Miracles Fashion Show and Miss Miracle Charity Pageant that raised $20,000 for Children's Miracle Network Hospitals.
iLEAD Leadership Camp
Miami, Florida - Elizabeth Tran spoke at iLEAD, a youth leadership event to share her leadership experience in Teens Go Green and Model4Miracles
Trash Trans Trends at NYFW 2.0
New York, New York - NYFW 2.0 by Art & Beauty Magazine with TrashTransTrends Designs on the runway
SHE-RO Luncheon Fundraiser
Boca Raton, Florida - She-ro Luncheon to raise money for Boca Raton's local womens' shelter and honoring PR Pageant Coach's Jules Meyer as one of the She-roes of the day!
Debris Free Oceans: Under the Mango Tree Clean-Up
Miami, Florida - Debris Free Oceans Plastic is Scary beach clean up picking up garbage with kombucha and acai bowls right afterwards
SEED Food and Wine Festival
Miami, Florida - SEED Food & Wine Festival Eco-Fashion Show, Vegan Festival, and Yoga Brunch promoting sustainability through vegan eating, vegan clothing, and health awareness. Elizabeth volunteered with the event .
Debris Free Ocean Wynwood Pickup Crawl
Miami, Florida - Wynwood Pick-Up Crawl with Debris Free Oceans. Picking up garbage around the Wynwood area and celebrating at the Wynwood Yard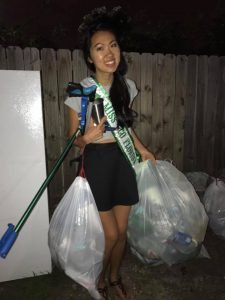 DAMA Fashion Show with Trash Trans Trends
Teens Go Green designs at the DAMA Fashion Show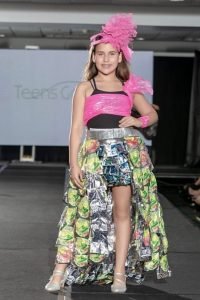 National Junior Honor Society Speech
Orlando, Florida - Elizabeth Tran speaks at Southwest Middle School's National Junior Honor Society sharing her story with Teens Go Green and being a Disney Friends for Change
Packaging Christmas Tree
December 20 - Teens Go Green creates life size Christmas tree from all the discarded packaging Elizabeth and her roommates collected since August!