2017
Voices of Hope - Jacksonville Science Festival
Jacksonville, Florida - Elizabeth shares her story of starting Teens Go Green at 12 for the Voices of Hope event, focusing on how the voice of equity and justice will not be silenced for the young generation of powerful leaders

Jacksonville Science Festival
Jacksonville, Florida - Elizabeth speaks at the official Jacksonville Science Festival on her work with Teens Go Green. The event has elementary and middle school students showing their science projects and beyond.
Green U Internship with the University of Miami
Elizabeth works with the Office of Sustainability at the University of Miami to track the university's carbon footprint. Conducted a two month analysis of the dining halls and the inventory of food and beverage for their sustainable attributes.
Central Florida Earth Day Promotion with Fox 35
Teens Go Green hosts fashion show at Central Florida Earth of TrashTransTrends and promoted the event on Fox 35
Brickell Energy Charging Station Locations
Elizabeth assists Brickell Energy in finding charging station locations around the Miami area for electric cars. Elizabeth and other students in corporate sustainability met with the government officials responsible to discuss the potential expansion
Model4Miracles Fashion Show and Miss Miracle Charity Pageant
Orlando, Florida - The 9th Annual Miss Miracle Charity Pageant. At Model4Miracles, the event hosted 10 children from Children's Miracle Network Hospitals, 90 models for the fashion show, and has added to a new total of over $100,000 for Greater Orlando CMNH.
Dream in Green Internship
Miami, Florida – Elizabeth interning for Dream in Green, a non-profit organization that creates programs in over 300 K-12 schools across Miami-Dade County. More information can be found at www.dreamingreen.org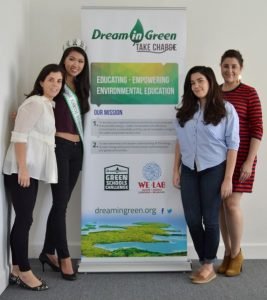 Central Florida Veg Fest
Orlando, Florida - Central Florida Vegetarian Festival. Hallogreen Fashion show with Trash Trans Trends
Catwalk: A Night of Conscious Fashion
Miami, Florida - Modeling fashions from the best sustainable designers in South Florida. This dress was upcycled denim from Sea Jasper
SEED Food & Wine Festival
Promoting vegan food and plant based companies in the city of Miami
Northern Miami Dade Solar Co-Op Info Session
Miami, Florida - Informing residents on what qualifies and how to go about installing solar panels
America Recycles Day at the University of Miami
Orange County Recycles Day
Orlando, Florida - Teens Go Green tabling at the Orange County Waste Management facility promoting fashion, games, and crafts made of repurposed materials
Thanksgiving Donations for Straight Street Orlando
Distributing gently used shoes at the Sunday's Thanksgiving for the Homeless of Orlando. Rather than throwing away the shoes due to the growth of our feet, we can reuse them for those in need.