2015
CATA Organic Official Wardrobe Sponsor
Elizabeth Tran met with Consumers Against Toxic Apparel and Silver Needle and Thread to establish official wardrobe sponsorship for Miss Earth Florida appearances. Please visit HTTP://WWW.CATAORGANIC.COM/
Dream in Green and Citizens for a Better South Florida
Elizabeth Tran visited Dream in Green and Citizens for a Better South Florida's offices. These are two successful environmental non-profit organizations in the Miami-Dade area
Eco Banners placed throughout the University of Miami
Green U places banners around University of Miami's Lake Osceola, made by Elizabeth Tran
Trash2Trends Fashion Show
Elizabeth and Rosanna Tran designed outfits for Keep Orlando Beautiful's Trash 2 Trends Fashion Show made of soda cans and furniture wrap respectively.
Clinton Global Initiative University with SPLASH
Solar Purification for the Lives of All through Sanitation and Health will take part in the Clinton Global Initiative University with Bill and Chelsea Clinton. Nika Hosseini and Elizabeth Tran will bring a solar-powered water purification system to a village in Kiburara, Uganda with Aquasolve Ventures and IDEAS.
Orlando Chinatown's Arbor Day
Teens Go Green celebrates Chinese Arbor Day in Orlando Chinatown where we planted four trees in the area
Windermere Storm Drain Labeling
Teens Go Green hosted a storm drain labeling event for Orange County Environmental Protection Division for Windermere. Teens Go Green was also featured on their newsletter this month.
One Spark in Jacksonville, Florida
Elizabeth and her family attend the One Spark Jacksonville event
University of Miami's Earth Week
Each day is a new environmental theme in collaboration with student organizations and companies becoming greener. Elizabeth coordinated it as part of the environmental branch of student government
Central Florida Earth Day at Lake Eola Park
Teens Go Green will host their annual fashion show and design contest right after.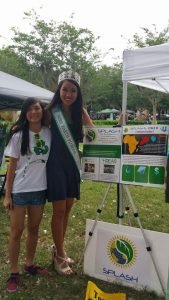 Dream in Green's Living the Dream event
Elizabeth attended Dream in Green's Living the Dream event as a fundraiser for the organization and supported the silent auction
Mother's Day Mother Earth Fashion Show
Fort Myers, Florida - Elizabeth took part in the Consumers Against Toxic Apparel Fashion Show to promote the importance of organic and natural fiber clothing
Model 4 Miracles Fashion Show and Miss Miracle Charity Pageant 2015
Model4Miracles and Miss Miracle raised over $16,000 for Children's Miracle Network Hospitals and sponsored eight Miracle Children for the fashion show
Arnold Palmer Hospital and Winnie Palmer Hospital Tour
Toured Arnold Palmer Hospital facilities and Winnie Palmer's NICU
Clean the World Soap Sorting
SPLASH Fundraiser at World's Perfect Pageant
Raised money for SPLASH Solar Purification for the Lives of All through Sanitation and Health through SPLASH Top Model Photo contest